BARONESS MURIENNE L'ALOIERE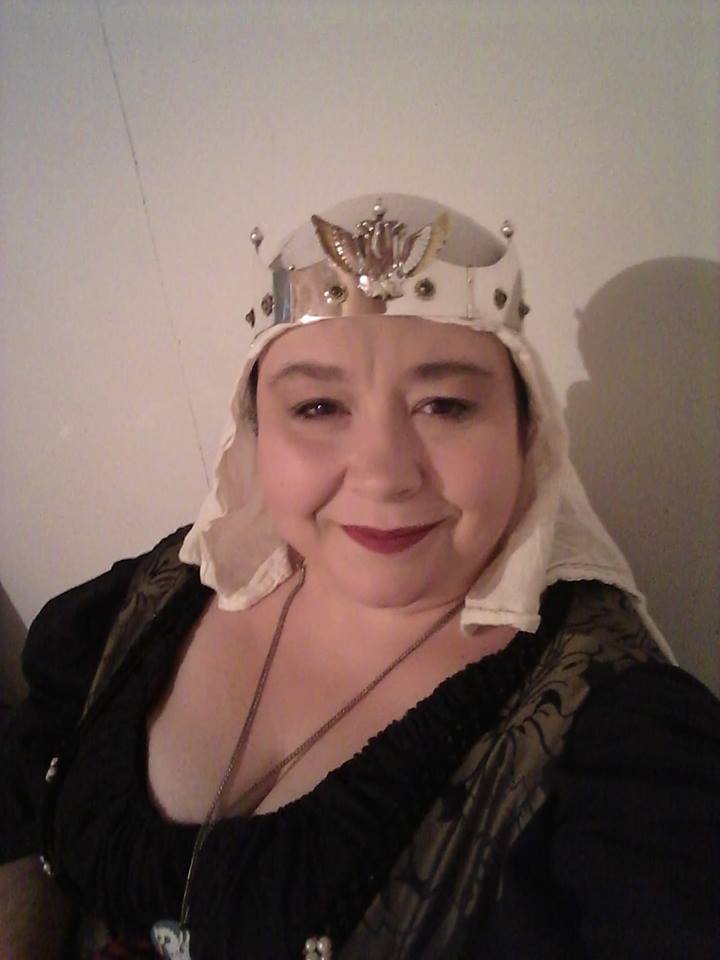 Persona: 15th Century, hailing from Alsace on the border of France and Germany.
SCA Interests: Period food of all kinds, the whole system from ground to the table including preservation. History from the view of those not going off to war, the everyday lives. Illumination, bookbinding and card weaving are also fascinating.
Food Likes: Her Excellency enjoys exploring new foods, especially period foods. Vegetables of all kinds are welcome on her plate. Preserved things (pickled, smoked, dried, etc) are a favorite. Seafood and fish (without bones or head) is also a wonderful treat.
Food Dislikes: Melons other than watermelon, cake, & chicken legs are not favorites.
Drink: Water, diet Mt. Dew, tonic water (can include gin). Tea, Earl Grey, hot. Will happily taste mead. Loves a good beer, though not too hoppy. Her Excellency does not drink non-diet soda, sweet tea, or coffee.
BARONIAL WHIMS
Her Excellency would like to see period feasts prepared as often as possible.
Reasonable attempts at hiding or covering modern items as much as possible is greatly appreciated.
Her Excellency also ask that the populace keep their voices down at court so that the recognition of gentles is able to be heard by all.
Scribal Needs
Her Excellency want to show off the skills of the scribes in the Barony with scrolls at their courts and for projects throughout their tenure. If you are interested in contributing please contact their Clerk Signet, Lady Murin Dunn.
Largesse Donations
Largesse donations are gifts that are given to our Baroness so that She might give them out while traveling within the kingdom and beyond.
Where handmade items are preferred contributions to the largesse, any items that are green and white are welcome. If you are interested in donating, please contact Her Excellency's Largesse Steward Lady Lady Annice Argent.
Retainer Information
If you have a question about Her Excellency's Progress, or wish to be a Lady in Waiting or Guard, please contact Her Excellency.
Contacting Her Excellency
If you have a question or concern that you wish to speak with Her Excellency personally about you can use the contact information listed below to reach Her. Please, no calls after 10:00 PM. Her Excellency is easier to reach online than by phone as her job do not allow time for phone calls during the day.
Baroness Murienne
baroness@sacredstone.atlantia.sca.org
Past Barons and Baronesses
Marc d'Aubigny
Alianor atte Red Swanne
08/2014-09/2017
Matsudaira Kentarou Toshiyori
Sine ní Dheaghaidh
04/2011-08/2014
Axel of Taavisitia
2/2010-04/2011
Axel of Taavisitia
Jeanmaire Ilaria Beatrice du Domremy
2/2009-2/2010
Marc d'Aubigny
Alianor atte Red Swanne
4/2006-2/2009
Kisaiya Zingara
4/2002-4/2006
Duncan MacAdam
Emer ny Reyly
4/1999-4/2002
Rachel de Johnstone
4/1995-4/1999
Bran Trefonnen
Eliska Alexandrovna
2/1993-4/1995
Bran Trefonnen
3/1991-2/1993
Jason Michael of Andover
Susan Douglas of Andover
9/1982-3/1991